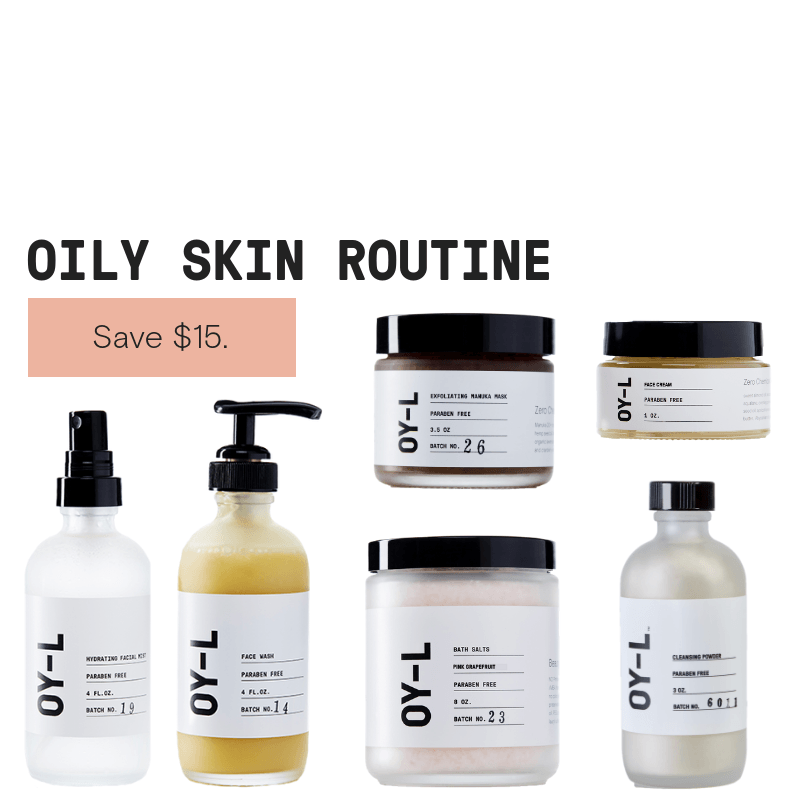 Oily Skin Routine
About the OILY Skin Routine:
Oily skin requires a thoughtful combination of pore-cleansing exfoliants, along with antibacterial botanicals like natural Manuka 20+ honey and Lavender to effectively reduce breakouts. The OILY Skin routine helps to disinfect, calm, equalize and clear pores without irritating or over-drying the skin. Your problem skin will be clearer, more even-toned, and more healthy and balanced.
How to use the OILY Skin Routine:
MORNING:
First, Cleanse with Cleansing Powder. Then, Tone with Hydrating Facial Mist. Next, Moisturize with Face Cream–a little goes a long way. You only need a pea size amount for your entire face.
NIGHT
2-3 times a week, enjoy a bath with Bath Salts and Exfoliate with Exfoliating Manuka Mask. Then, Cleanse with Face Wash. Next, Tone With Hydrating Facial Mist, Finally, Moisturize with Face Cream–use a pea size amount for regular hydration, or two pea size amount for a hydrating overnight mask.
INCLUDES
Exfoliating Manuka Mask 3.5 oz
Not sure if this is the right routine for your skin? Take our quiz to find out which routine works with your specific skin type.