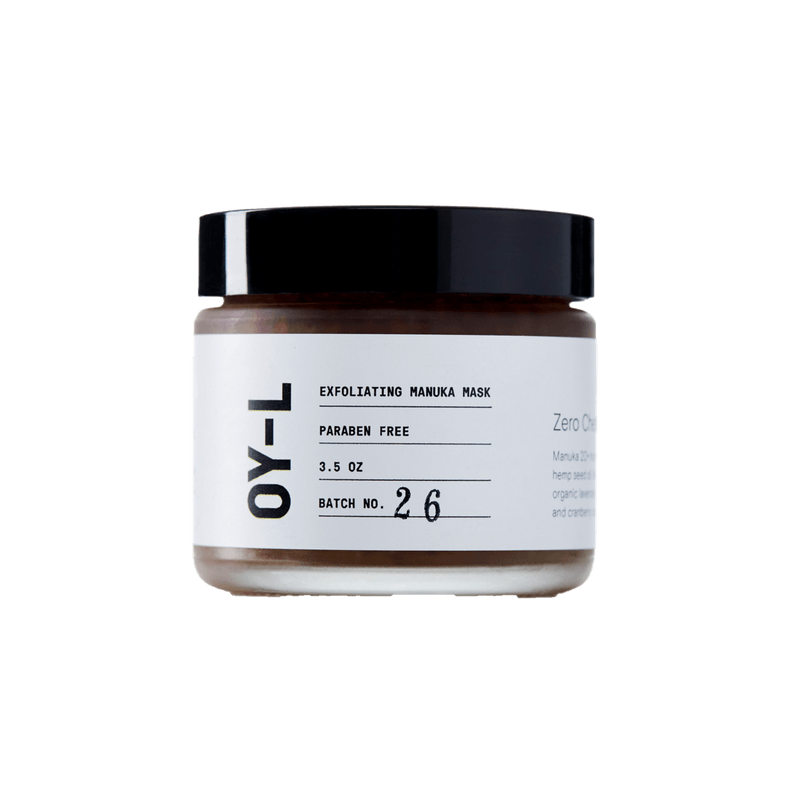 INGREDIENTS
manuka 20+ honey, wild-crafted honey, Abyssinian oil, hemp seed oil, frankincense oil, organic rose petals, organic lavender buds, colloidal oatmeal, rosehip oil, blueberry & cranberry seeds, rosehip extract, willow bark extract
EXFOLIATING MANUKA MASK
OY-L's Exfoliating Manuka Mask blends together plant-based exfoliating agents with Manuka 20+ honey to achieve deep restorative and healing benefits for the skin. Our customers describe it as addictive. The mask is made in small batches with the highest grade ingredients including Manuka 20+ honey, hemp seed oil, rosehip extract, frankincense and lavender oil.  Fresh ground lavender buds and rose petals give your skin a gentle exfoliation.
Your skin deserves personalized care and the freshest, cleanest ingredients.
Instructions
Take a teaspoon of the Exfoliating Manuka Mask in your palm. Add a little warm water to emulsify. Apply mask to face in a circular motion to start the exfoliation process. Leave on for 20 minutes, relax. After 20 minutes, rinse with cool water.
Key Ingredients
Manuka 20+ Honey: This miraculous honey is produced by bees that pollinate the manuka bushes in New Zealand. The manuka plant is related to the tea tree plant, hence making it a powerhouse ingredient. We use 20+ UMF so our mask's hydrogen peroxide, antibacterial, and anti-inflammatory properties are medical-grade. Manuka 20+ honey has the ability to stimulate production of cells to repair damage caused by infection.
Abyssinian oil: Due to the nature of this oil, it provides moisture and protection from water. Being a dry oil, it hydrates without clogging the skin's pores. Enriched by both linoleic and linolenic acids, Abyssinian oil conditions while helping regenerate skin cells.
Rosehip oil and Rose petals: Naturally antibacterial rosehip oil locks moisture into skin while helping to reduce redness and irritation. Rose petals serve as an exfoliant to relieve acne-prone skin.
Read more about our ingredients here.
The Today Show loves this mask: click here to find out why.