As we are enjoying the signs of Fall; the pumpkins, the leaves, the cider, we know that the cold Winter is just around the corner. While battling cold season is bad enough, this year we know that we will also have to take on the unknown of COVID-19. Now is the time to start adding in small steps to our routines that can last through the winter months. Our BeWell Kit has everything you need to make changes in your daily routine that will have lasting long term effects.
The History of Aromatherapy and the Be Well Kit
Aromatherapy has holistically aided the body's immune system, mind, and spirit all over the world for thousands of years. We even saw this through times as dark as the bubonic plague. Legend has it that in 15th century France, a group of thieves protected themselves with a blend of oils and botanicals that they wore on a cloth over their noses. Not before long, by 19th century France, use of essential oils for disease prevention was recognized by French physicians. It was French perfumer and chemist René-Maurice Gattefossé that first created the term "aromatherapy" after using healing properties in lavender. Today, we know aromatherapy among boosting immunity, aides in pain, improves digestion, reduces stress, alleviates headaches, and so much more.
The oil blend in our kit helps boost your immune system and strengthens it for the months ahead.  We put our own twist on a classic blend of clove, cinnamon, lemon, eucalyptus, and rosemary by adding one of our signature ingredients, lavender. Rolling this oil on the bottom of your feet, neck,  wrists, or under your nose will keep your immune system in top shape while leaving you with a lasting fresh aroma that will boost your spirits and leave you feeling calm.
What Else Can I Find In My Kit?
Not only does the kit include this powerful oil blend, but it also includes a body serum that can help combat dryness while nourishing the skin. In addition to properties that combat inflammation and soothe the skin, lavender's calming aroma is loved by many.
For a quick clean when you aren't around soap and water, the hand sanitizer in your kit will do the trick. The fresh scent of lemon sanitizer will leave your hands feeling clean and ready to go without any sticky feeling or unpleasant odors.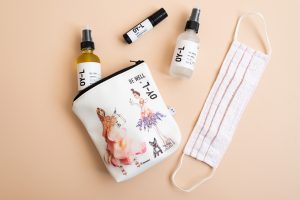 By Morgan Rudge
This content is provided only for informational purposes. It is not meant in any way as a substitute for the professional advice provided by your physician or any other healthcare professional. The statements have not been evaluated by the FDA. Our products are not intended to diagnose, treat, cure or prevent any diseases.