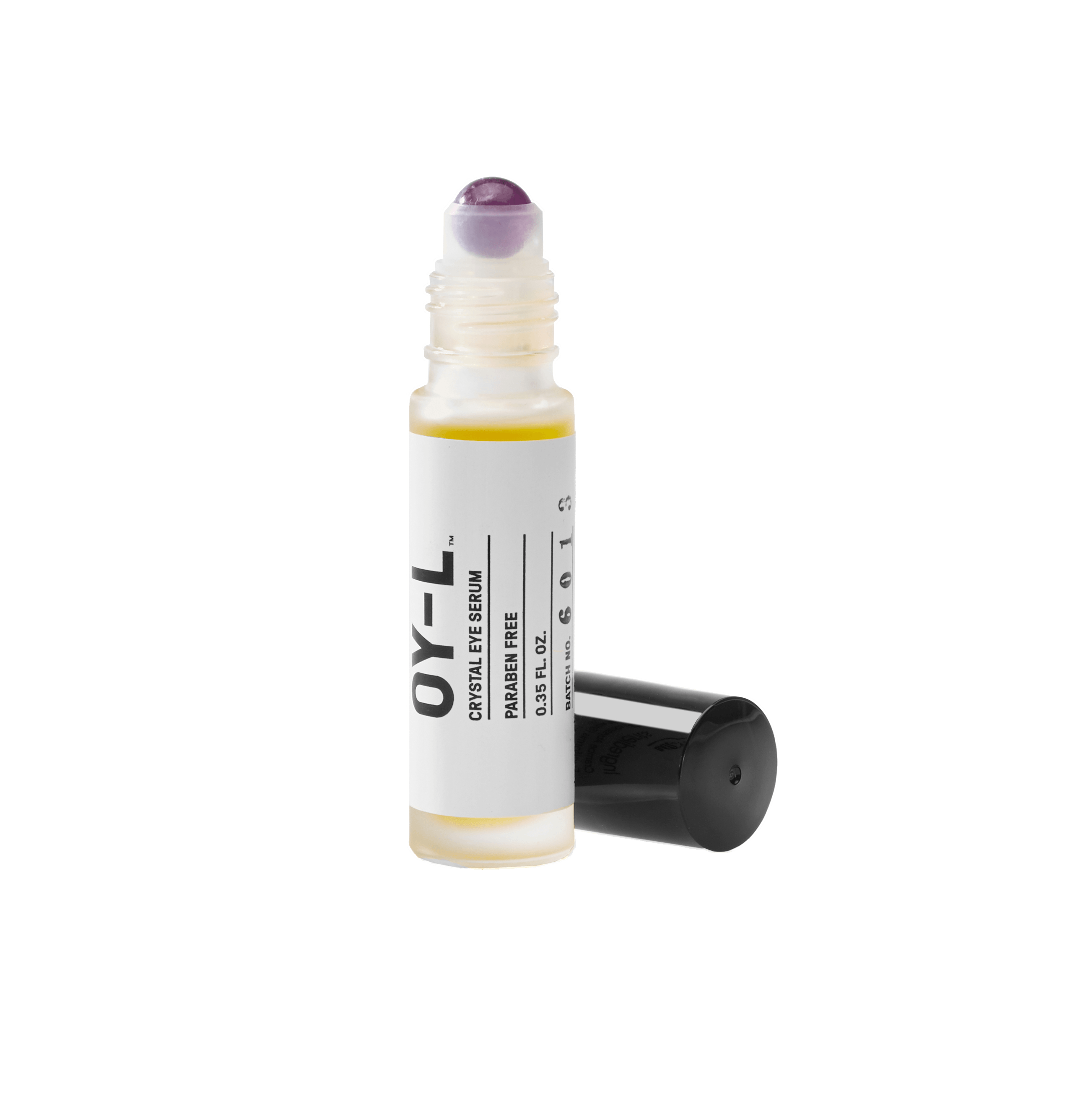 INGREDIENTS
Crambe Abyssinica (Abyssinian) Seed Oil and Tremella Fuciformis (Snow Mushroom) Extract, Cucumis Sativus (Cucumber) Oil, Citrullus Lanatus (Watermelon) Seed Oil, Rosa Mosqueta (Rosehip) Fruit Oil, Cannabis Sativa (Hemp) Seed Oil, Coffea Arabica (Coffee) Seed Oil, Lavandula Officinalis (Lavender) Oil, Squalane, Tocopherol (Vitamin E).
CRYSTAL EYE SERUM
Introducing our newest addition, the Crystal Eye Serum.
Super Foods. Super Serum.
Amethyst is a crystal of spirituality. It enhances cooperation between one's mental and physical bodies. Amethyst is known as a stone of meditation. It expels the energy of calm and peace to help one enter the state of meditation.
Chinese and Japanese societies have used Tremella to improve their complexion for over 2000 years. This vegan-alternative to hyaluronic acid is ultra-hydrating and can hold 500 times its weight in moisture. Because of its sugar component, it draws moisture and locks it into the skin. This helps to make fine lines and wrinkles disappear. For that reason, Tremella is an incredible ingredient for the under eyes.
Cucumbers are placed on the eyes for a reason. Cucumbers have a high level of caffeic acid that assists in reducing puffiness around the eyes. Cucumber seed oil also contains Vitamin C that has a brightening effect on dark circles.
Watermelon seed oil has an incredible amount of nutrient compounds. Each vitamin and nutrient helps to reduce the appearance of wrinkles, age spots, and blemishes.
Disclaimer: Our rollerballs are made of authentic Amethyst and therefore the shades of purple may vary.
Instructions
After cleansing the skin, roll the amethyst under the eyes. Then, use on frown lines, around the lips, and wherever wrinkles form. Next, gently pat area with finger. Finally, follow with your favorite moisturizer.
Key Ingredients
Tremella Extract: Tremella Fuciformis is used to hydrate the skin and lighten dark spots. The Tremella mushroom's moisture holding capacity is more than Hyaluronic Acid. Molecules in Tremella Mushroom are smaller than hyaluronic acid, therefore it penetrates the skin more easily. Tremella is high in Vitamin D, which has impressive healing abilities when applied to acne.
Watermelon Seed Oil: Watermelon seed oil contains many minerals, antioxidants, and unsaturated fatty acids, and various vitamins. This nutrient-rich oil is known for moisturizing the skin. With these antioxidants and vitamins, this oil is able to assist in reducing the look of wrinkles, age spots, and blemishes.
Cucumber Seed Oil: Cucumber Seed Oil helps support skin elasticity. It also helps maintain healthy and hydrated skin. This oil absorbs fast, leaving your skin hydrated and fresh. Above all, Cucumber seed oil contains Vitamin E, which can fight off free radicals that cause premature aging of the skin.